Click here to read Best of the Decade: Catcher
Click here to read Best of the Decade: First Base
Click here to read Best of the Decade: Second Base
Click here to read Best of the Decade: Third Base
Click here to read Best of the Decade: Shortstop
Click here to read Best of the Decade: Left Field
Today, it's time for centerfielders.
Fangraphs Top 30 by WAR (2010-2019)
Baseball Reference Top 30 by WAR (2010-2019)
If you want an explanation of any of the more advanced metrics in the tables, click here or navigate to the top of the page and click on the post titled "Best of the Decade: Catchers."
Have you heard Max's new podcast yet? It's called Podcast by Committee with Andrew and Max Brill. Check it out below and subscribe if you haven't already!
Michael Nelson Trout
I wrote an entire article about how Mike Trout may actually be underrated a little over a year ago (read it here) and, unsurprisingly, he has continued to play at an elite level since then. It would be an injustice to try to summarize all of his achievements in this post alone but I'll do my best to hit the main bullet points.
Trout has been the best played in baseball over the past decade, end of story. The gap between Trout's fWAR over the last ten seasons and second-place Buster Posey's fWAR is equal to the gap between Posey's and 29th-place Yasmani Grandal's fWAR (not including pitchers). Over the last decade, Trout has won three MVP awards and was robbed in 2012 when he had a way better season than Miguel Cabrera. He has four top-two finishes on top of his three wins and one fourth place finish. For reference, Barry Bonds has seven MVP awards and two top-two finishes, meaning Trout is just two top-two finishes shy of Bonds' total. And he's not yet 30. That's insane.
Trout has also won seven Silver Sluggers in eight seasons, a Rookie of the Year, all-star MVP twice, and was named MLB Player of the Year in 2019.
On top of all his hardware, he has put up some elite numbers over the past decade. You want conventional stats? In the 2010s among all players, Trout is first in runs, fifth in home runs, 15th in steals, fifth in batting average, and fourth in walks. You want advanced stats? In the 2010s among all players, Trout is first in wOBA, first in wRC+, fifth in ISO, sixth in walk rate, and first in OPS+. He is the only player over the past decade with at least 200 home runs and 200 steals. Six of the top eleven seasons by fWAR among position players in the 2010s are courtesy of Mike Trout. He had 30 home runs and 49 steals at age 20. Mike Trout has a career wRC+ of 172. There are a handful of Hall of Famers who have not compiled even one season with a wRC+ of 172: Vladimir Guerrero and Hank Greenberg are just two examples of excellent hitters who never did.
It'd be a futile exercise to try to do justice to quite how good Trout has been, but here's one more stat to leave you with: after nine seasons, Mike Trout is 86th all-time in rWAR one spot above Larry Walker and one spot behind Pud Galvin, both of whom are in the Hall of Fame. The only other two players in the top 400 in rWAR all-time who played fewer than ten seasons are Al Spalding, who played in the 1870s and had back-to-back 50-win seasons in 1874 and 1875, and Addie Joss, who threw the fourth perfect game in MLB history in 1908. Trout is 73rd all-time by fWAR.
All of that was to say that he's already a Hall of Famer. And he is still in his prime.
Second Fiddle
Andrew McCutchen is a former MVP himself but Trout's production dwarfs his production over the past decade. That's not saying much, though; Trout's production dwarfs everyone else's production over the past decade. McCutchen has been a beast in his own right; he's fourth among all hitters since 2010 in fWAR and is third among all players in runs scored since 2010. He's hit over 30 home runs just once so while he's never done anything particularly insane, steady production over a decade is an easy way to end up as one of the best players in that decade. Cutch had five seasons of at least five rWAR from 2011-2015 including his three-year peak from 2012-2014. In that three-year span, he averaged over seven WAR per season (read: really really good) and finished in the top-three in MVP voting each year, winning the award in 2013.
Had it not been for one Mike Trout, Cutch would have topped this article.
Other Centers of Attention
Lorenzo Cain has fallen from grace since his heyday but was still an excellent center fielder both defensively and offensively in the 2010s. Cain had always had a knack for running well but in 2014 with the Royals he broke out, slashing .301/.339/.412 with 28 steals over 133 games. He followed that up with a power breakout of sorts, slashing .307/.361/.477 with 16 home runs and 28 steals once again in 2015, when he helped lead the Royals to a World Series. He had a down year last year in Milwaukee, his worst season since 2012, but still put up 3.0 rWAR, which is a very respectable season. Cain posted over 35 rWAR and over 28 fWAR in the past ten seasons; both totals put him solidly in the top five center fielders of the last decade.
Curtis Granderson has put up great stats over the past decade—his best season came in 2011 when he hit 41 home runs, stole 25 bases, and led the American League in both Runs and RBI as a Yankee—but even more impressive than his on-field work is his off-field work. The Grandy Man has been lauded as an ambassador for baseball worldwide and has devoted his career not only to raking on the field but to championing noble causes off it. When Granderson signed endorsement deals, he asked the companies he endorsed to donate money to his foundation or equipment to inner city kids rather than put money in his pocket. He is one of the most stand-up guys in baseball, and mentioning him without talking about his extensive commitment to causes off the field would be a disservice.
All of this is not to diminish Grandy's on-field accomplishments. He had an excellent eye at the plate and a highly sought after combination of power and speed for the Yankees and Mets in the former half of the decade. After the end of his stint with the Mets at the 2017 trade deadline, he suited up for four teams in three seasons before hanging up his spikes for good in January of this year. He retires having been one of the premier center fielders in the 2010s and arguably one of the best outfielders of the last 25 years.
Red Sox great and Yankees flameout Jacoby Ellsbury had a monster season in 2011 for the Red Sox in which he slashed .321/.376/.552 with 32 home runs and 39 steals. He finished second in MVP voting to Justin Verlander that season and never came close to matching that production in any of the following seasons. He signed a seven-year deal with the Yankees before the 2014 season and did not play a single inning in either of the final two years of his contract. And to add insult to injury, the Yankees aren't planning on paying out the final year and buy-out of Ellsbury's contract because they claim he received unauthorized medical care for his injuries.
With that being said, Ellsbury wasn't bad when he was on the field but staying on the field was an issue for him. In his 904 games over the past decade, he slashed .279/.339/.419 with 84 home runs and 214 steals, seventh-most among center fielders. I'm sure Yankees fans are glad he's finally off the books after this year.
Adam Jones has been in action for a while over in Japan after not getting a free agent deal stateside this past offseason. He's been struggling across the Pacific in a way he never really struggled in MLB, so he could be nearing the end of his career. Before leaving MLB for NPB, he was one of the top center fielders in baseball in the 2010s, slashing .278/.318/.460 with 251 home runs and 806 RBI, the latter of which was tops among all center fielders. In his prime, Jones was a 4-5 rWAR center fielder who was a really solid all-around contributor. And when he wasn't busy patrolling the outfield for MLB clubs, he was busy saving the country from impending doom…in the World Baseball Classic. Here's a video of him robbing Manny Machado of a home run in the quarterfinals of the 2017 WBC. Enjoy.
Defensive Wizards
A lot of my favorite non-Mets players have been center fielders because there's just something so beautiful about watching a good defensive centerffielder do his job. Aside from the obvious in Mike Trout, I've always admired Jim Edmonds, Carlos Beltran (okay, he was a Mets) and, more recently, two of the guys I'm going to mention below.
The first of my favorite non-Mets is Kevin Kiermaier. Aside from his 80-grade looks, Kiermaier can kick it with the best of them on defense. Kiermaier is second only to Lorenzo Cain in defensive WAR among center fielders over the past decade and played nearly 400 fewer games. Kiermaier also boasts the second-largest contract in Rays history, a six-year, $53.5 contract extension that will keep him in Tampa through 2023. He's never been a world-beater on offense, but anything he produces on offense is gravy considering his stellar play in the outfield.
Another Kevin, Kevin Pillar has been another defensive standout over the past decade. Pillar's defense isn't quite as good as Kiermaier's but he makes up for it a little bit with the bat. Pillar's calling card is his defense, though, and he'll be patrolling the outfield for the Red Sox this season.
Speaking of Red Sox, Jackie Bradley Jr. is next up on the defensive stalwarts list. Bradley slashed .267/.349/.486 with 26 home runs in 2016, his best offensive season by far, and has otherwise had below average offensive production and above average defense. I hope you're noticing the common theme here.
Jarrod Dyson, in addition to his great defense, is third in steals among center fielders and sixth in steals among all position players since 2010. The unfortunate part for Dyson is that you can't steal first base and his .318 career on-base percentage didn't exactly lend itself to swiping bags.
Billy Hamilton is the poster boy for "you can't steal first base." He has 299 steals in 808 career games and sports a .297 OBP. His defense is where he makes his money, but it doesn't hurt to have four 50-plus steal seasons under his belt.
Aaron Hicks, if he plays on Opening Day, will have returned from Tommy John surgery in under 300 days, which is insane. I hope that his arm holds up, because he's been known for unleashing his cannon of an arm from center field on multiple occasions like this one. He recently figured it out on offense too, slashing .250/.359/.464 with 54 home runs over parts of the past three seasons. He should play every day for the Yankees this year once he gets fully healthy.
I, of course, have to give Juan Lagares a shoutout here. Incredibly, 74.4% of his career rWAR is from his defensive performance.
Last but not least, Ender Inciarte has been a defensive force for the Braves and Diamondbacks during his career. My brother insists that he is blow average which, offensively, he is, but on defense he is seventh in rWAR among center fielders since 2010. Not too shabby. And definitely not below average.
Forgotten Friends
Carlos Gomez is just 34 years old, so it's crazy to me that he has already called it a career. Before he did that, though, he was one of the best outfielders in baseball while he played for the Milwaukee Brewers. From 2012-2014, Gomez slashed .277/.336/.483 with 66 home runs and 111 steals, recording seasons of 19, 24, and 23 home runs and 37, 40, and 34 home runs, respectively. He's put up just 3.9 rWAR in the five seasons since his 4.7 rWAR 2014 season, so it's safe to say he's been on the decline for a while.
Matt Kemp finished second in MVP voting in 2011 thanks to a season in which he triple-slashed a ridiculous .324/.399/.586 with 115 runs, 39 home runs, and 126 RBI, all National League highs. He was 13 points shy of the National League triple crown that year, finishing behind eventual MVP Ryan Braun and batting champ Jose Reyes. Like Gomez, Kemp never really matched his production from that year, accruing just 4.5 rWAR from 2012-2019 after an 8.0 rWAR season in 2011. Still, for that one year, he was one of the best players in baseball.
For a lot of the guys in this category, it's a tale of two careers. Austin Jackson is no exception.
Austin Jackson from 2010-2012: .280/.346/.416, 30 homers, 61 steals, 15.2 rWAR.
Austin Jackson from 2013-2018: .267/.324/.382, 35 homers, 53 steals, 6.7 rWAR.
Denard Span hasn't quite fallen off a cliff like the three players before him. He actually posted at least one WAR in every season in his career except one, which is pretty impressive considering that he retired in his mid-thirties. He also led all of baseball in triples in 2013, which is more black ink than some of the other gentlemen in this article. The well-traveled outfielder went out on a high note in 2018, posting his best numbers since his 2014 season in which he led the National League in hits.
Coco Crisp has too good of a name to not include him in this article. Crisp did his best work before the 2010s, but he still had three 30-plus steal seasons in this past decade and also blessed us with this elite photo: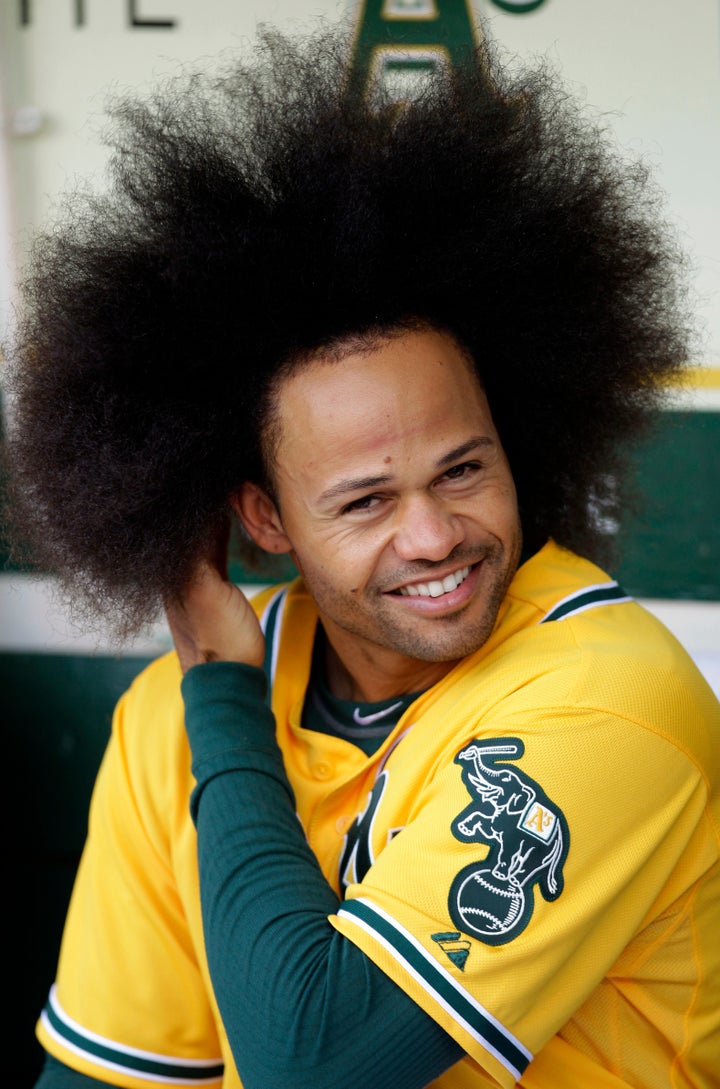 Desmond Jennings, to my surprise, only played 567 games in his seven-year career, which is just under four full seasons. He slashed .245/.322/.393 with 55 home runs and 95 steals in his career but never really did anything special. He was a regular when he was healthy for the Rays, though, so I figured he was worth a mention here.
Quick Hits
Charlie Blackmon AKA Chuck Nazty has been a tank for the Rockies over the past six seasons. Fangraphs and Baseball Reference love him to differing degrees because of the Coors effect, but there's no arguing with a .304/.360/.509 triple-slash, 172 home runs, 129 steals, and 227 doubles in his career.
Shane Victorino really didn't do anything in the 2010s but he has a sick nickname, The Flyin' Hawaiian, so he at least earns a mention. Well, he did have 6 rWAR in 2013, but aside from that, not much else.
Joc Pederson has had some really solid seasons for the Dodgers. He can't hit for average but he can hit home runs; he has 123 career dingers in a little under five full seasons, and he has hit 25+ in four of his five full-time years.
Ramon Laureano is most well-known for this insane 321-foot throw from the warning track. Aside from his cannon of an arm, his defense isn't amazing, but he's got a great bat as well, which makes him an electric player to watch.
Adam Eaton has had some trouble staying healthy but he has been a solid player for his career. He owns a .285/.363/.417 career triple-slash and has twice led his league in triples.
A.J. Pollock was insane in his lone fully healthy season. In 2015, he slashed .315/.367/.498 with 20 home runs and 39 steals and somehow finished 14th in MVP voting with 6.9 rWAR.
Youngsters
If you're surprised it took me this long to get to Cody Bellinger, don't worry, I am too. I didn't think there was a better place to put him than in this heading. Bellinger has numerous accolades under his belt at the young age of 25: Rookie of the Year, NL MVP (last year), NLCS MVP (2018), and two all-star appearances. He slashed a bonkers .305/.406/.629 last year with 47 home runs and 15 steals. He can also play all three outfield positions and first base. Bellinger is easily in the next-best tier of players, just below Mike Trout with other gentlemen such as Christian Yelich, Mookie Betts, Ronald Acuña Jr., and Juan Soto.
Victor Robles played his first fully healthy season in 2019 and did not disappoint; the then-22-year-old put up 4.1 rWAR in 155 games with 17 home runs and 28 steals. More than half of his value came from defense. Maybe we'll see him in the Kiermaier category sometime in the future.
I'm not going to spend a ton of time on Oscar Mercado but a 15-15 season as a rookie is worth mentioning. He needs to work on the walks, but if he can become a more disciplined hitter, he could turn into a bona fide stud.
Nick Senzel came up an infielder but transitioned seamlessly to the outfield. A former #2 overall pick, Senzel slashed .256/.315/.427 with 12 home runs and 14 steals in 104 games. Not a bad debut for the Tennessee product.
Byron Buxton, like Nick Senzel, was a #2 overall pick. The difference is that Buxton has never really managed to stay healthy for an entire season. He's played more than 100 games just once and has yet to fully demonstrate his tantalizing upside in full capacity. If he can remain on the field for a full year, I see no reason why he can't hit 20 home runs, steal 30 bags, and play excellent center-field defense, but he needs to stay healthy for that to happen.
In the Wings
I lamented in my left field article about how no good outfield prospects are left field prospects. All of the good outfield prospects are center fielders. So we have a wealth of riches in this section.
Luis Robert in terms of money, it probably isn't great that Luis Robert signed away his entire pre-FA salary and two free agent years. In terms of MLB fandom, though, it's great because it means he is going to be the starting center fielder on the South Side of Chicago this year. Robert is a career .312/.381/.551 hitter in the minor leagues and has mouth-watering physical tools. The Sox are coming. Watch.
Dylan Carlson broke out in a big way last season with 26 home runs in 126 games. He will likely get some action for the big league Cardinals this year, though it remains to be seen whether he will be a full-time center fielder. He can definitely play center field, though, so I'm including him here for that reason.
Jarred Kelenic makes me sad every day because the Mets picked him in the draft and he is very good. They also have no outfield depth. In spite of this, they decided to trade him away to the Mariners for an aging second basemen an a relief pitcher. Kelenic is going to be a stud and it is going to continue to make me sad.
The Atlanta Braves have a stupid amount of athleticism among their outfield prospects. Cristian Pache and Drew Waters can both play center field but neither of them probably will to begin thanks to the presence of one Ender Inciarte. Pache is more defensive-minded, he will probably be an elite center fielder and the bat is a work in progress. Waters is an athletic freak and slashed .309/.360/.459 across double- and triple-A last year. He doesn't have a ton of over-the-fence power just yet, but he rapped 40 doubles, so he will be a force in the Braves' lineup for a while to come.
Riley Greene, at the ripe old age of 18, was the best hitter I saw in the New York-Penn League last year. I don't remember exactly, but it felt as though every ball he hit against us was at least 100+ MPH off the bat. He hits the ball hard, is incredibly athletic, and made it all the way to full-season ball as an 18-year-old in his draft season. He's been a joy to watch during Summer Camp; here's a video in case you don't believe me.
Corbin Carroll, unsurprisingly, is another athletic freak. You've heard the story before. If you haven't, just read the paragraphs above. Center field prospects are fun. Corbin Carroll, like the other center field prospects, is fun. At his peak, he will probably be a 15-homer, 30-steal center fielder with good defense. Let's hope he reaches his upside.
Click here to continue reading best of the decade (right field).
Like what you read? Make sure to click on the main menu (in the top right corner) and enter your email in the "follow" box. It's free!
Follow Max on Twitter: @metsfanmax
Header Image: AP Photo/Marcio Jose Sanchez